Could this ambitious Franco-Swiss co-production be the next Downton Abbey?
All about Winter Palace, the new English-language series from France's Oble Studios and Switzerland's Point Prod about to bring La Belle Epoque in a Swiss ski town across the globe
7th Jun 2022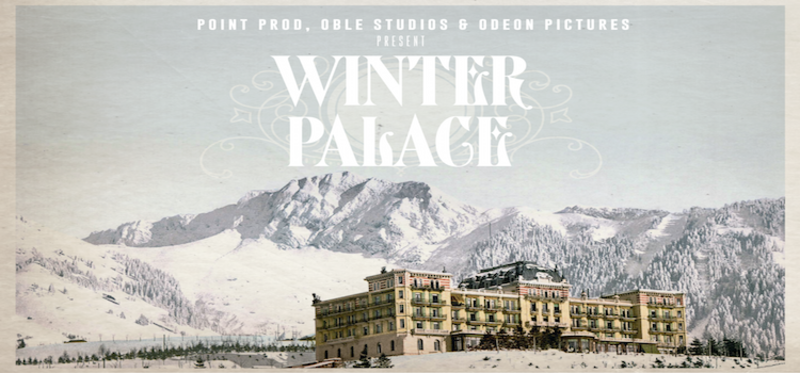 The international Franco-Swiss-German co-production is a high-end European period drama with global appeal and will be unveiled at the Conecta Fiction & Entertainment 2022 International Series Pitch Competition at the end of June. Point Prod & Oble Studios are officially opening the grand doors of Winter Palace, a new high-end international co-production set to heat up this summer's Competition at the Conecta international TV conference in Spain. The lavish period drama from Point Prod and Oble Studios, with Germany's Odeon Studios also on board, is set in the first Alpine Grand Hotel at the turn of the nineteenth century and captures the optimism, prosperity, and vitality of the era known as "La Belle Epoque." The eight-part series ( 8 x 52-minutes) was written by lead writer Emmy-winning screenwriter Lindsay Shapero (Red Joan, Enid) with Stephane Mitchell and is a Point Prod-Oble Studios title co-produced with Swiss national broadcasters RTS. Shapero describes the show as "an immersive trip into the world of luxury and glamour filled with unexpected twists and turns, infused with life and its passions."
The series aims to draw viewers into the luxurious world of a five-star hotel and open its doors to the Winter Palace's demanding, wealthy clientele that includes royalty, artists, and luminaries like Arthur Conan Doyle, all juxtaposed against the storylines of the staff who work there. The character-driven series follows young, ambitious hotelier Andre Morel who dreams of launching the first luxury hotel just in time for the Alpine winter season. He procures investments from English aristocrat Lord Fairfax to open the doors of the Winter Palace together. The script focuses on the clash of the old establishment and the new pioneering, "revolutionary" dreamers of the Belle Epoque and also deals with issues of class, race, diversity, and feminism through the lens of history. Expect beautiful Europeans, sweeping landscapes, and opulent luxury around every turn, plus a glimpse at winter sports in all their nineteenth-century glory like ice-skating, tobogganing, skiing, and mountaineering. The high-end European drama is still in its early stages. It has been officially commissioned by RTS, the scripts are finished and producers are currently working on securing the remainder of the financing.
"Although it's a period drama it feels very fresh," Oble's creative producer Lydia Kali said of the alluring show, adding that: "Morel's ambition for the hotel and his willingness to embrace the 'New' captures the adventurous spirit of a golden age. As a hotel, the turnover of Winter Palace clientele gives the opportunity to introduce a wide variety of fantastic characters alongside longer-running storylines, driving momentum, keeping viewers gripped with a number of story threads, all set amongst the glistening pristine snow-capped Alps." Oble is an international production and distribution outfit based in Paris whose mission is to bring unique shows to all kinds of screens. It develops and commercializes innovative stories for major platforms and broadcasters worldwide. Oble brands cover all genres with a particular focus on high-end fiction series including more recently Finnish detective procedural Helsinki Crimes and Canada's thriller-murder mystery No Return and coming soon European thriller series Road 45 and biopic drama Jack Magic. "Our specialty at Oble is really to optimize the transfer of rights and associate linear distribution with platforms," Kali said of their prowess in marrying the two worlds together to optimize funding and global reach.
Pre-sales are currently underway for the Franco-Swiss-German title that plans to start shooting in 2023 likely in Switzerland. Point Prod is a Swiss audiovisual production company founded in 1996 and based in Geneva that provides content and services to major European broadcasters. Point Prod's Head of Fiction Jean Marc Fröhle said: "The nineteenth century is a fascinating era, such an optimistic time of change and the origin of so many concepts that we take for granted today – such as holidays abroad, independent women, central heating and winter sports. We're delighted to have Oble and RTS as co-producers who share our vision. It's a significant production for all parties and one of RTS's biggest investments into drama to date. As one of the leading distributors of international drama, Oble has a great understanding of what works and what doesn't, and together with talented screenwriters Shapero and Mitchell, we have the right ingredients for Winter Palace to entertain audiences all over the world." The success of shows like Downton Abbey and its more recent adaptation into films that have seen strong box office results worldwide prove that such high-end European-centric character-driven dramas have mass appeal and connect with audiences everywhere.
The story also resonates today, particularly as the world emerges from a global pandemic. "Since 2020, we've been in this phase of deconstructing and reconstructing our ways of thinking and living. We are still reaping the fruits of what the Belle Epoque left us and the insouciance and positivity it brought," Kali said, adding, "There is a real duality between the lead character, a businessman, and elite hotelier who clashes with the local community. At the time, the Swiss Alps were just little villages, so there is a real class struggle that goes on and we see the tension between the two worlds colliding." Casting for the fully English-language series is also underway, Point Prod and Oble promise an all-star international cast with "characters that come from everywhere" Kali said adding, "This will be a very modern story". The series is part of the 2022 Conecta Fiction & Entertainment Pitch Competition, a European-Latin American TV and networking event that runs in Toledo, capital of Spain's Castilla-La Mancha from June 21 -24.
By Rebecca Leffler
Comments
Join in! Login to post comments.
Loading comments...